Welcome to our web site!


Moundridge EMS is a volunteer emergency medical service agency that provides emergency services to a 165 square mile area. We respond to approximately 300 calls per year.
Experiencing a medical or traumatic emergency can be one of the scariest moments in a person's life. When this happens you want someone who is caring, knowledgeable, and accessible. Someone willing to take the time to treat you appropriately as well as treat you as a person, not just a patient.

At our service, we pride ourselves on our patient service. We offer a knowledgeable staff, safe and proven procedures, and the latest in medical technology.

We've created this web site for patients and EMS technicians as well as anyone else interested in Moundridge EMS. It includes specific information about our service and our technicians.
Moundridge EMS
PO Box 28
225 N. Wedel
Moundridge, KS 67107
(620) 345-3657
Click here to contact the Director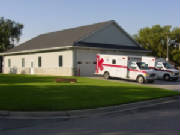 Office Hours:

9:00am -5:00pm weekdays

Saturday and evening hours are available by appointment.
When experiencing an emergency, we are available 24/7